REDEFINE YOUR MARKETING SPACE
At Catalyst, we go beyond simply providing exhibit services. We are a team of marketers, creators, and thought leaders who believe in harnessing creativity to serve your brand's unique needs. To us, "good design" isn't just about enhancing the appearance of your exhibit, but about achieving better outcomes for your business.
By providing everything under one roof, we maintain complete creative control, while minimizing your exposure to external influences. With a 200,000 square foot facility and robust in-house capabilities, we are confident in our ability to offer you the flexibility and scalability required to tackle today's challenges.
IN-HOUSE MEANS BETTER CONTROL
Our philosophy is to consolidate all program aspects under one roof for better control. This drives our decision-making to enhance quality, maximize flexibility, and manage projects effectively. With a state-of-the-art facility, we accommodate the latest exhibiting technology and practices. Over 25 years, we've expanded in-house capabilities, investing in tools like fabric printing and audio-visual equipment. Our goal is an all-in-one service delivering exceptional results, minimizing reliance on external contractors and vendors.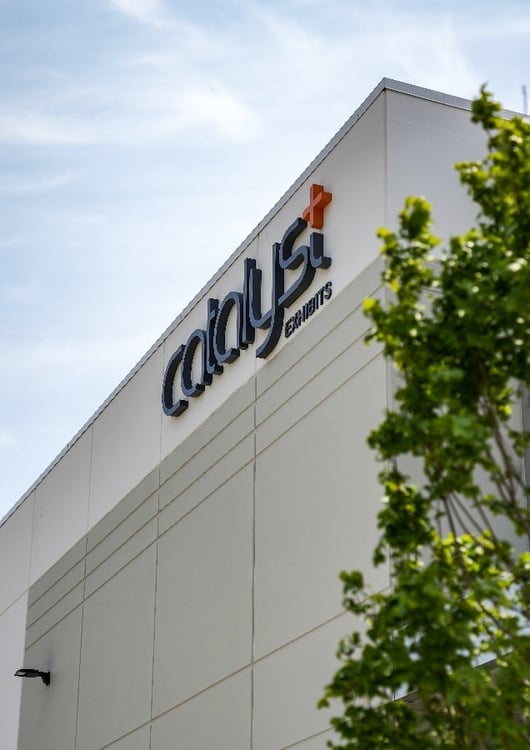 GOOD DESIGN, BETTER RESULTS
We design custom solutions to solve your business problems, helping you connect with your ideal attendees and break through the trade show clutter.
ALWAYS THINKING AHEAD
At Catalyst, we embody thought leadership by anticipating tomorrow's challenges and finding the right solutions. As your strategic partner, we offer both research and advisory services to bring change to life.