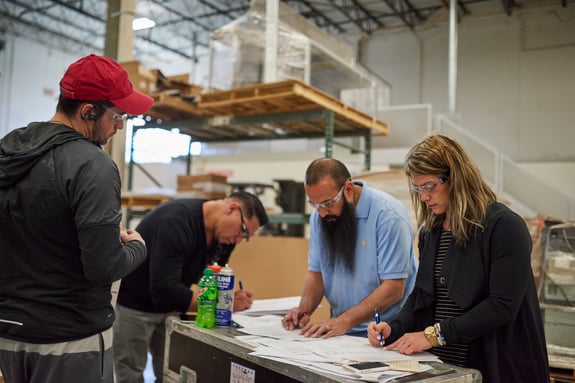 Capabilities
THEY
TALK BIG

,
WE EMPOWER
YOU TO


THINK BIG.

At Catalyst, we prioritize empowering big thinkers over big printers. Our global team of over 100 employees, backed by a network of experienced professionals, is our greatest asset in the building (Oh, and big printers? We've got those too). Meet the leaders of our talented teams who bring big ideas to life.
Scott Hanna, CFO
Client Relations
Andy Kleiner, EVP
Production
Katelyn McShea, Director
Program Management
Josh Melcher, Director
Project Management
Ryan Prokop, Manager
Engineering
Kellie Kusch, Manager
Graphic Design
Manny Tellez, Manager
Inventory/Warehouse
Your single source partner for all things experiential.
Modern exhibits are dynamic spaces that seamlessly integrate physical, visual, and digital experiences. Producing outstanding exhibits is only part of the equation; they must also be brought to life through careful planning and execution. At Catalyst, we have the expertise to create end-to-end programs that fully leverage the power of integrated experiences. Let us be your partner in bringing your vision to life.
TOUCH
Management
ordering & managing onsite services, planning & managing yearly exhibit schedule, internal collaboration, customer service, inventory management
TOUCH
Fabrication
bending, welding, crimping, cutting, sanding, electrical, painting, product mounting,
TOUCH
Printing
graphic pre-flight, hard substrate printing, dye sub fabric

fabric printing, graphic finishing, v

elcro, SEG, and pillowcase

fabric finishing
TOUCH
Digital
dedicated digital project managers, monitor rentals, LED screens, content packages, lead capture, nation-wide labor, onsite supervisors
TOUCH
Inventory
centralized warehouse to store and manage programs of any size and scale whether that includes crates, skids, or portables.
TOUCH
ON-SITE
onsite I&D supervision, manage 3rd party vendors, post show reports,

services reconciliation
Global Reach
Catalyst Connect, our international office based in Nuremburg, Germany, provides a seamless global exhibiting experience for our clients - featuring executional experience in EMEA, ASPAC, and South American markets.