A lot of exhibit houses are talking about flexibility for 2021, given the current state of the industry. It's almost as if it's a new buzzword. Let's talk about how the industries best kept secret will have a critical role in exhibiting moving forward, and how it can help with the challenges of 2021.
Flexibility is the Future
The truth is, Catalyst has provided flexibility to its clients for more than two decades. We pioneered the concept of rental components in exhibiting to optimize customer experiences at each unique venue and show. We invested (and continue to invest) in an expansive rental inventory of frames, components and configurations to provide a vast number of options.
Best of all, because of our designers and our in-house graphics production capabilities, our rental solutions do not look like rental. All the exhibits on this website utilize rental to a greater or lesser degree. It's all about maximizing impact and providing flexibility.
Why? Even before COVID, the pace at which business moves has only accelerated- increasing the pressure on exhibit teams to keep up with constantly changing business objectives from show-to-show. This often requires significant changes to the exhibit's size, layout, messaging, and more. Traditionally, such changes have been cost prohibitive for many, but offerings such as Catalyst's rental program provide a necessary answer for the evolving needs of today's exhibitors.
This is a trend we see continuing after 2021 as demand has consistently increased over the last 2 decades.
Addressing the Challenges of 202
1
Exhibiting in 2021 is all about change. The IAEE reports that when shows return, booth sizes may be down by 30-40% with many social distancing requirements still in effect. Attendance, especially international, will be lower. How do you as an exhibitor adjust? What stays? What has to go? What needs to evolve? Here are a few things to consider: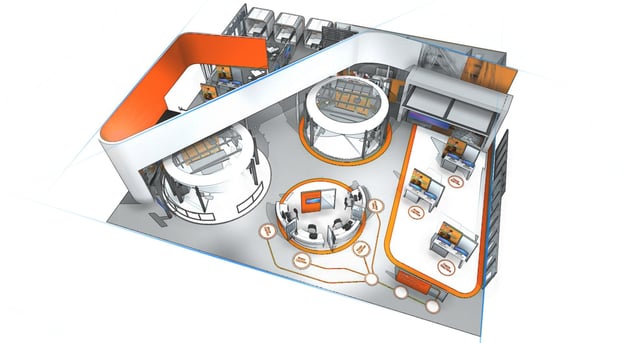 Scaling Your Floorplan
Scaling down isn't as simple as cutting off a section of your current booth. The most critical booth elements must be prioritized and in some cases reimagined for 2021 - ie. less touchscreens, tight spaces, etc. Non-essential items may need to be removed completely to save space and make way for social distancing requirements. For some, what makes the cut may change from show-to-show. If you are scaling down this year consider:
What parts of your booth are mission critical?
What can you do without?
Are these requirements the same for every show?
Is your current exhibit flexible enough to adapt to these needs and deliver results every time?



Traffic Flow & PPE
When it comes to social distancing, leaving open space is not sufficient enough to avoid congestion and to ensure compliance. More than ever, traffic flow is a critical consideration for any exhibit this year. Temporary signage and floor markers can promote queuing and provide visual cues. For areas of close interaction, plexiglass barriers are exceptionally useful. For traffic flow and PPE you may want to ask:
Does your booth have a well planned traffic flow with visual directional cues?
Are you prepared to adapt if regulations change from venue-to-venue?
Do you want to own and store these assets afterwards?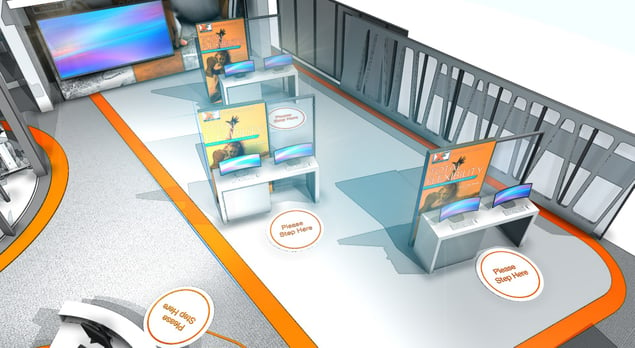 THe Bottom Line
Exhibitors that position themselves to move quickly and adapt to change throughout the year will see the most success in 2021 and beyond. Rigid, slow moving programs will face a uphill battle incurring additional expenses and potentially subpar results. In short, if flexibility is the strategy then rental is the means.
If you are uncertain about your approach, Catalyst can answer these questions for you in a very pragmatic, tactical way because we're already trained to think in terms of maximizing investment - while remaining on time, on scope and on budget. We have the experience to design, optimize and deliver flexibility at a time when it's needed most.
And in a year of transition and change, experience is what counts.