Trade show exhibits and displays have evolved significantly over the years, with technology playing a pivotal role in capturing the attention of attendees and delivering memorable experiences. However, it's crucial to understand that technology should be a complement to the physical aspects of an exhibit, not overshadowed by them. So the question remains, what's the best way to use technology in trade show exhibits?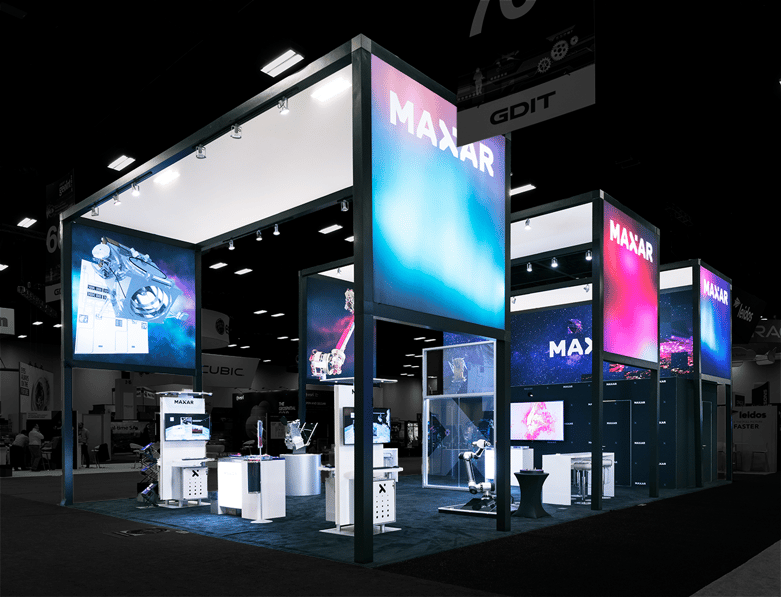 What is Technology Going to Do For You?
A great question to ask yourself when integrating your trade show exhibit with technology is what is the technology going to do for you? A common misconception at trade shows is that the booth with the largest crowd is the most successful. This can be true, but is it the right clientele that's surrounding your booth? Or maybe it's a group of people who want to try out the touchscreen game you have set up. Being intentional about the purposeful integration of technology in your booth can be a game changer. Avoiding using technology for the sake of having technology can be helpful. Your technology should help capture information or create sales leads. Whether it's a small survey on a touch screen or a competitive game where you can gather names of a high scorers are both great ways to make the technology work with you instead of against you. Different tools such as touchscreen kiosks, interactive monitors, and presentation-based displays can help cater to different preferences and engagement.
Technology is Your Exhibits Attention Magnet

Just like bright city lights and flashing neon signs, people are attracted and drawn to movement and interactive elements. When you apply this to your trade show exhibit, you're sure to get noticed from across the room. Technology, in the form of digital displays, helps attract attention and encourages visitors to explore your exhibit further. Technology is great at attracting attention to your space and should be used in that facet. Utilizing movement and digital displays can create visual intrigue and make your booth stand out in a crowded space.
Physical Experiences Drive Engagement
Having your technology as a means of attention is a great use of digital features. But one thing to keep in mind is that most people don't fly across the country, or the world, to stare at a computer screen. Even the most advanced virtual reality experience might not be enough to capture someone's genuine attention. While technology can be a powerful tool, people attend trade shows for the physical experience. They're there to experience things they can't do virtually. They want to see, touch, and engage with products and people. Your digital presence within your trade exhibit should enhance the physical element of your booth, not replace it. Technology can help your booth come alive, adding depth and engagement to your exhibit.
The Future of Trade Show Booths Starts with Catalyst Exhibits
The goal of using technology in your trade show exhibit is to not replace the physical exhibit with one massive TV screen or digital distraction. Instead, using technology to strategically enhance the entire exhibit will help it come alive. Guiding attendees from one section to another, keeping them engaged, and learning about what it is that your booth is all about.
In the world of trade shows, exhibit technology is an unbelievably valuable tool, but it should always serve a specific purpose. At Catalyst Exhibits, we know that when thoughtfully integrated, technology can elevate the physical experience, attract and gain attention, provide valuable data, and work with you to obtain a goal. Catalyst Exhibits understands the exhibit of the future is one where technology works in harmony with the physical environment, creating a dynamic and engaging showcase that leaves a lasting impression on attendees. Get in touch with our team today and let us create your exhibit with the perfect mix of digital and physical elements that work with you in achieving your business goals.